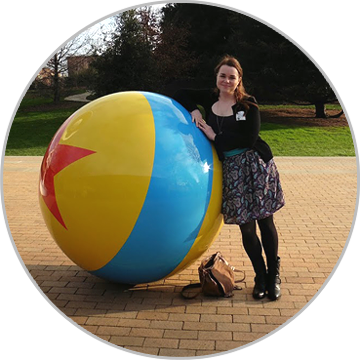 Louisa Gallie
Chief Creative Officer - Hunted Cow Games
Louisa has sixteen years of experience as a concept artist, illustrator, UI designer and general co-ordinator of chaos. As creative director on multiple Hunted Cow titles, she leads the art teams to ensure everything, from the first concepts to the final icons, all come together to deliver the best player experience possible.
You can view her work at her much-neglected website - www.louisagallie.com
Professor Kenny MacAlpine
Deputy Principal - UHI Moray
He began his academic career at Abertay University in Dundee as part of the original team who developed the world's first degree programmes in Computer Games Technology in the late 1990s.
Read More:

Kenny began life as a mathematician and very nearly took up a career in corporate finance, but came to the conclusion quite early on that he should use his skills for good rather than evil, and settled upon a more interesting—if less financially rewarding—life in academia. He did a PhD in algorithmic music composition at th eUniversity of Glasgow, bringing together his love of music, maths and technology, and has continued to work at that interesting point where different disciplines collide: he has developed interactive soundtracks for live theatre, film and video games; produced bagpipe music for the Beijing Olympics; created a music-streaming app for newborn babies and young children for the Scottish Government and the Royal Scottish National Orchestra, and built a unique digital harpsichord exhibit for the National Trust in London.

Despite having kids, Kenny still finds time to perform live from time to time as a jazz organist, and can often be found playing covers of classic 8-bit video game themes, a subject about which he has authored a book—Bits and Pieces—for Oxford University Press.

When he's not thinking about music, Kenny can generally be found rolling around the hills of Moray on a mountain bike with a GoPro strapped to the handlebars, huffing his way round a marathon course with a GoPro strapped to his chest, or baking different types of bread. Normally without the GoPro.
Stuart Muckley
CEO & Managing Director - Code Wizards
Code Wizards CEO Stuart, is a music, games and book loving ex-software engineer & architect who ensures he's hands on with clients daily to make sure they're doing the right things.
Read More:

Stuart has 35 years of coding (he started at 12 but still retains the youthful look) and 20+ (and a few more..) years in the industry. Starting with 8bit machines like the ZX Spectrum and Commodore 64 and everything from there on.

Outside of games he's worked with companies such as Universal Publishing Group, GAME Digital, and Belong helping them to marry tech to their business models and future needs.

In 2022 he was voted Game Dev Hero by his game industry peers (and was shocked to win!) and is a member of BAFTA recognising his work in videogames and the arts.

Outside of work you'll find him playing games (go check out the games list on codewizards.gg to find out what), reading, playing boardgames and occasionally venturing out to get Vitamin-D..